UGM Series Self Propelled Aerial Platform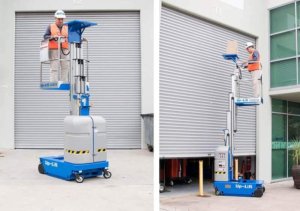 The UGM series aerial platform provides working heights from 5.9 m to 8.2 m. Power is provided by 2 x 12V maintenance free Absorbed Glass Mat (AGM) batteries. The highly reliable European designed hydraulic system ensures platform ascent and descent is safe, smooth and fast, with up to 200 platform operating cycles before battery recharging is required.
The UGM advanced design and compact structure makes it simple and easy to operate. The platform control joy stick handle includes Raise/Lower, Drive and Turning modes. Turning radius is less than 0.2m, making it suitable for use in confined spaces. These machines will fit through standard 2m doorways and can be easily moved into and out of passenger and goods lifts. They come with non-marking tyres and are well suited for operation on level commercial flooring.
Safety is enhanced with the inclusion of tilt and descent alarms, pothole protection and overload sensor. An extended platform to increase the work area can be provided on the UGM12 and UGM16 models. The UGM series can be driven with the platform fully raised and can negotiate slopes of up to 15 degrees with the platform in its stored position.
These machines are used in many settings when working at heights, including factories, warehouses, construction sites, workshops, shopping centres, hotel foyers, art galleries, railway stations / subways, hospitals, schools and universities. Applications include cleaning, repairing, painting, inspecting, decorating, installing and changing light globes.
Key Technical Specifications:
* Subject to ground surface conditions
**These machines are for indoor use only, cover when transporting the machine. Avoid exposure to moisture.