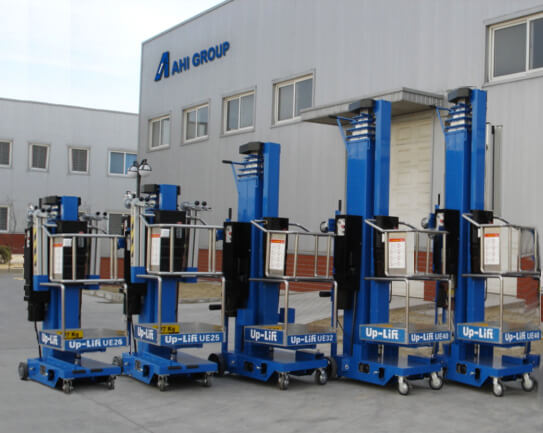 Up-Lift are well recognised in the global vertical access platform industry. These are used in many icon buildings such as the Sydney Opera House. Up-Lift UE series central mast vertical man lifts is a high-level vertical lifts with unique central mast technology which are optimum solutions for aerial working height from 8.1m to 16.5m. Use of high quality and exceptionally durable aircraft standard aluminium greatly reduces weight while strengthening the structure of the machine. With tilt back support mechanism, UE models of 12m or more can be easily pass through standard doors.
Up-lift UE series central mast vertical man lifts are designed with special focus on human and ergonomic requirements. It is compact and it is high in quality, easy to handle and comes with safety standards. Ergonomically designed stainless steel cage result in easy operation and also enhance ease of access.
Below are the key features and safety features of Up-Lift UE series central mast vertical man lifts:-
Key features:-
Unique stainless-steel cage
Maintenance-free battery with charge indicator
Loading facilities and tilt back support
Non marking wheels
Hour meter
Laser position locator
AC/DC model
Safety Features:-
Emergency down valve
Enabling control buttons
Emergency stop button
Back-up battery (AC-models) for descend
Dual control system
Spirit level indicator
Descend alarm
Low charge indicator (DC models)
Safety harness point
Flashing lights & warning decals
Wheel brakes
Safety relief valves
For more information please contact us!